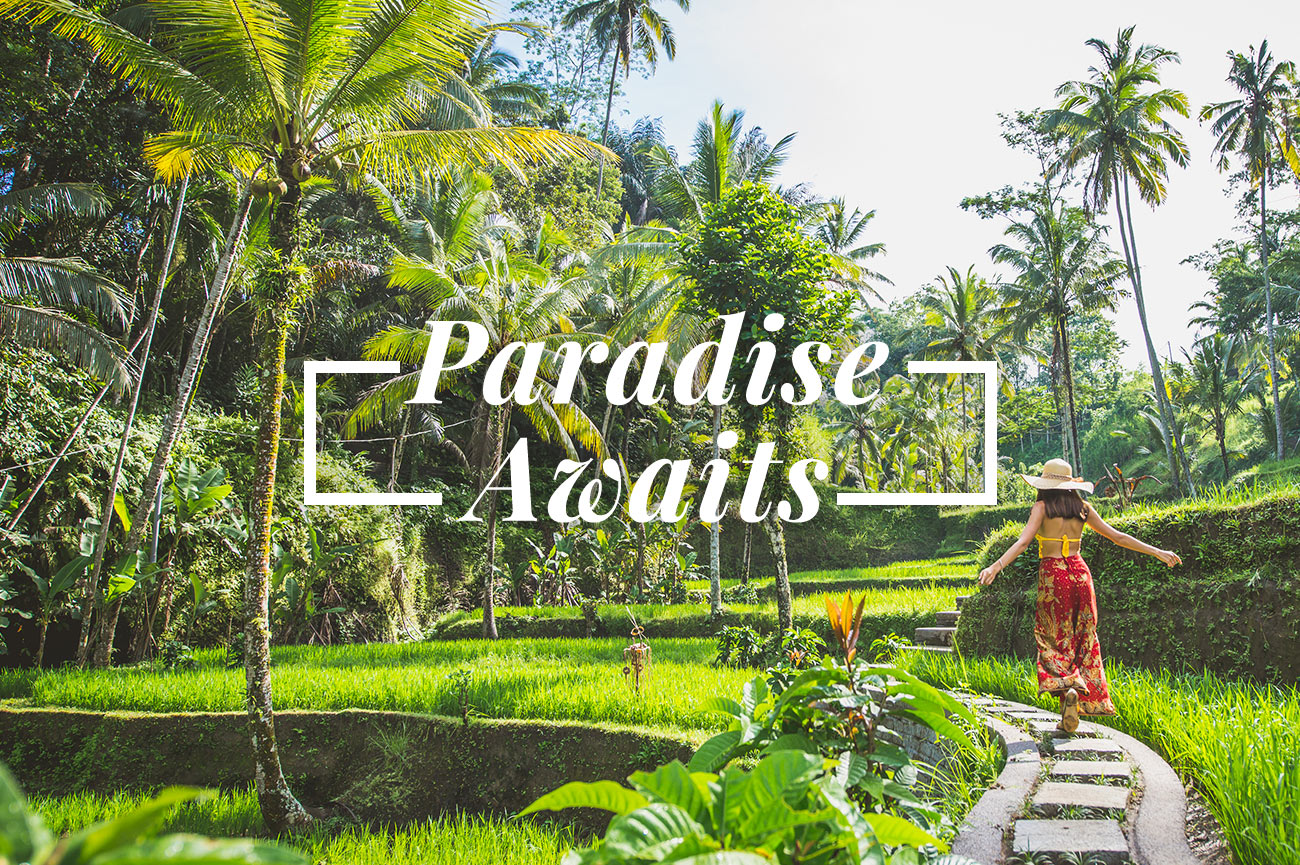 Tegalalang Rice Terrace, Ubud, Bali
Our Favorite Southeast Asia Destinations are Back!
Maybe you've spent too many beach vacations lolling about the sands of Mexico and the Caribbean. And maybe, just maybe, you are ready for a destination that's a little more adventurous, then it's time to start planning an escape to Southeast Asia. The region is back on the radar for travelers eager for its warm waters, incredible beaches, rolling surf, and cultural diversity.
All 11 countries of Southeast Asia—Cambodia, Indonesia, Laos, Malaysia, Maldives, Myanmar, Philippines, Singapore, Sri Lanka, Thailand, and Vietnam—have dropped quarantines for vaccinated travelers. Book a five-star train journey to explore this incredible part of the world or base yourself in one country; the choice is yours.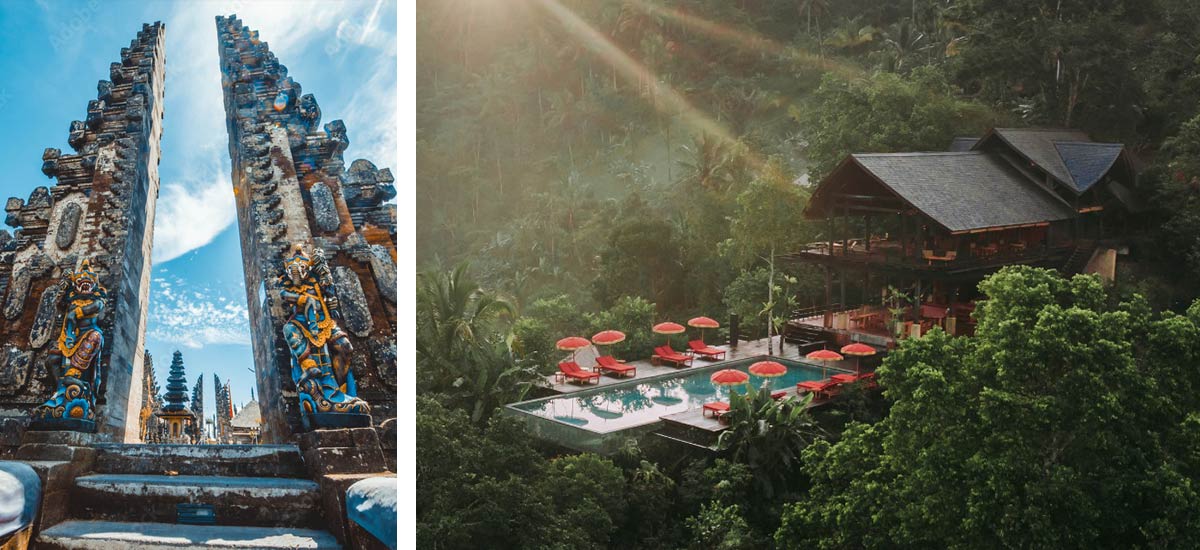 Left: Ulun Danu Batur Temple | Right: Buahan
Bali – A beach resort is a great spot to get over your jet lag, and then start exploring. The terraced rice fields near Ubud, the black sand beaches of Tabanan, the majestic island temple of Tanah Lot—Bali is about so much more than the beach.
Balinese people are warm and kind and happy to talk to visitors about their country. Make sure you book a temple tour with a private guide to explore off the well-worn tourist path. And if you want to live your Eat, Pray, Love best life, there's a yoga studio in Ubud for you.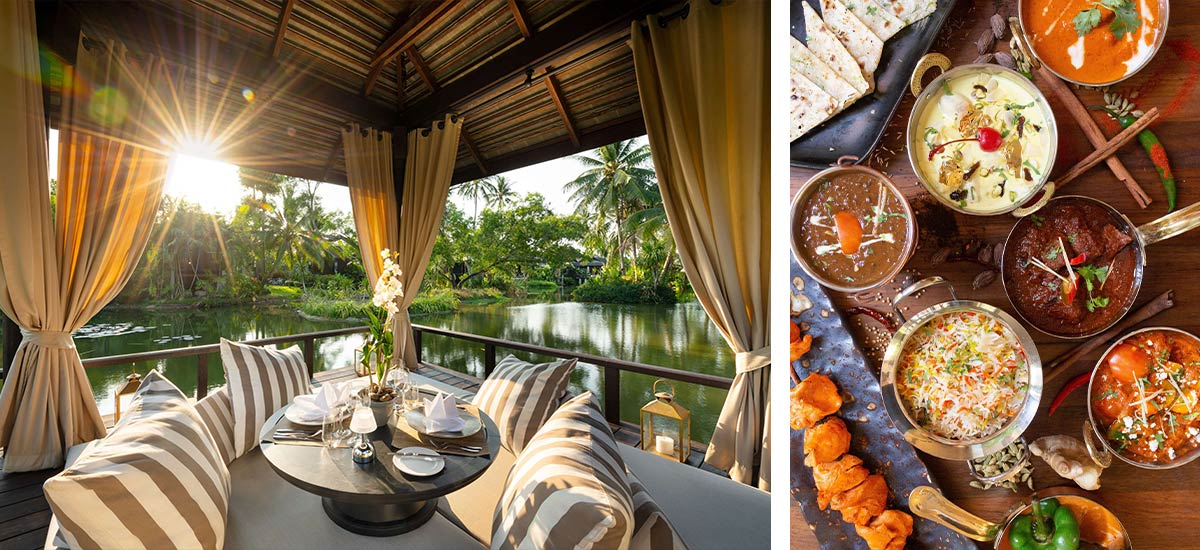 Anantara Mai Khao
Thailand – Honeymooners are booking this favorite getaway again. Popular exotic beach towns such as Koh Pha Ngan, Koh Samui, Krabi, Phuket, and Phi Phi Island are gorgeous and relaxing at the right resort, and new ones have opened up. Thailand is famous for its fantastically fresh and varied flavors—lemongrass, chili, kaffir limes—what better place to "go for Thai" than in Thailand?
Combine your beach getaway with the nightlife of Bangkok (just watch out for the wild and crazy traffic). Shop, eat, and see if you can count the number of Buddha statues you see—Bangkok has its largest one looming over the city at 230 feet high.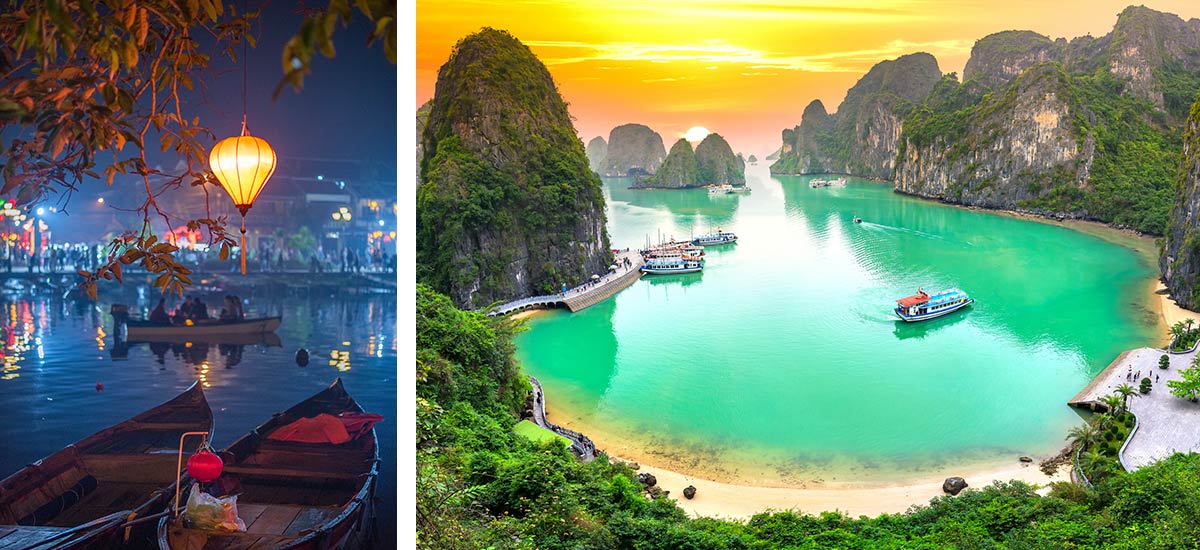 Left: Hoi An | Right: Halong Bay
Vietnam – This country hugs the eastern edge of the Indochina peninsula and is famous for its beaches and beach resorts. In the capital, Hanoi, explore the labyrinth of streets in the old quarter and stop at a food stall to taste the cuisine—a yummy blend of Chinese and Thai flavors. And don't leave before wandering the UNESCO world heritage site, Hoi An, an ancient trading village on the coast with well-preserved architecture and charm.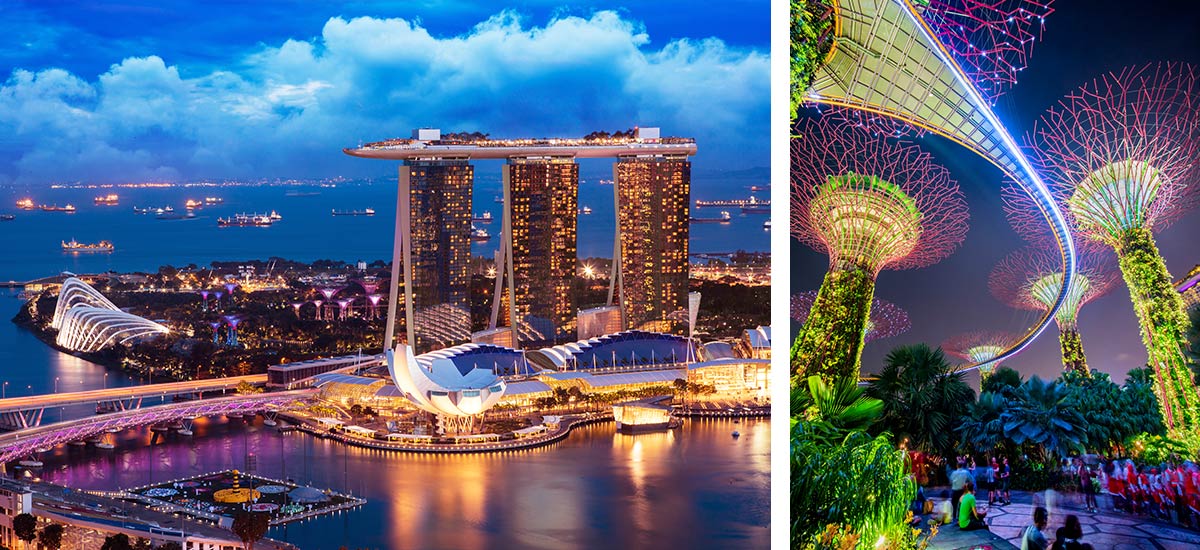 Left: Marina Bay Sands Hotel | Right: Gardens by the Bay
Singapore – This city-state is a fascinating blend of Asian and Western styles that has long been a melting pot of cultures: Malay, Chinese, Muslim, and Peranakan neighborhoods are fascinating to explore and shop in, not to mention to eat in. Just make sure that you spend time in one of its hawker-stall food markets—they're like a food court but so much more entertaining and delicious (pro tip: the longer the line of locals, the better the food).
From gleaming shopping districts along Orchard Road to the 57-story high infinity pool atop Marina Bay Sands hotel to the chanting monks of the Buddha Tooth Relic Temple (not to be missed), Singapore never disappoints.
Asia's beaches and historic sites are waiting:

Which one will you explore first?
British Airways
How to Make the Journey Part of your Vacation
Now, more than ever, it's time to ensure that your trip is as luxurious as your destination. Upgrading your flight and airport experience help soften the rougher edges of travel, especially in a summer when airports are busier than usual and airlines are still reconfiguring schedules and staffing.
Consider booking the best seats possible on the airline of your destination: The accents and personalities on British Airways or Aer Lingus, for example, will get you into a UK state of mind. Flying business class on long-haul flights (and enjoying the airline's accompanying airport lounges) is a travel game changer, but also consider splurging on something even better.

Left: British Airways | Right: Singapore Airlines
Even jaded frequent flyers feel a thrill of child-like delight when settling into premium seats. We've all seen those social posts: "Look at the orchid Cathay Pacific has placed in my pod seat!" and "Why yes, I will have a glass of Dom before takeoff!"
Heading to Asia? The Singapore Airlines suite offers complete privacy with its own sliding door, window blinds, and bed—travel with a partner and you've got a private double bed. Emirates' stunning first-class amenities are legendary—and offer you a chance to take a shower at 35,000 feet.
Left: Emirates | Right: Qatar Airways
Qatar's Qsuites are exquisite and can configure into a small living room for a more social feel. Flying Air France first-class? You'll be chauffeured from the lounge to the plane—bypassing the terminal completely.
Another way to make the journey more exciting is to take advantage of long layovers. Instead of spending hours inside an airport, book an extra night or two at your midway city—there's always a fun neighborhood or incredible restaurant to try. Consider this stop a trip within a trip!
Let us help you make the most of your journey,

not just the final destination.
TRAVEL BETTER!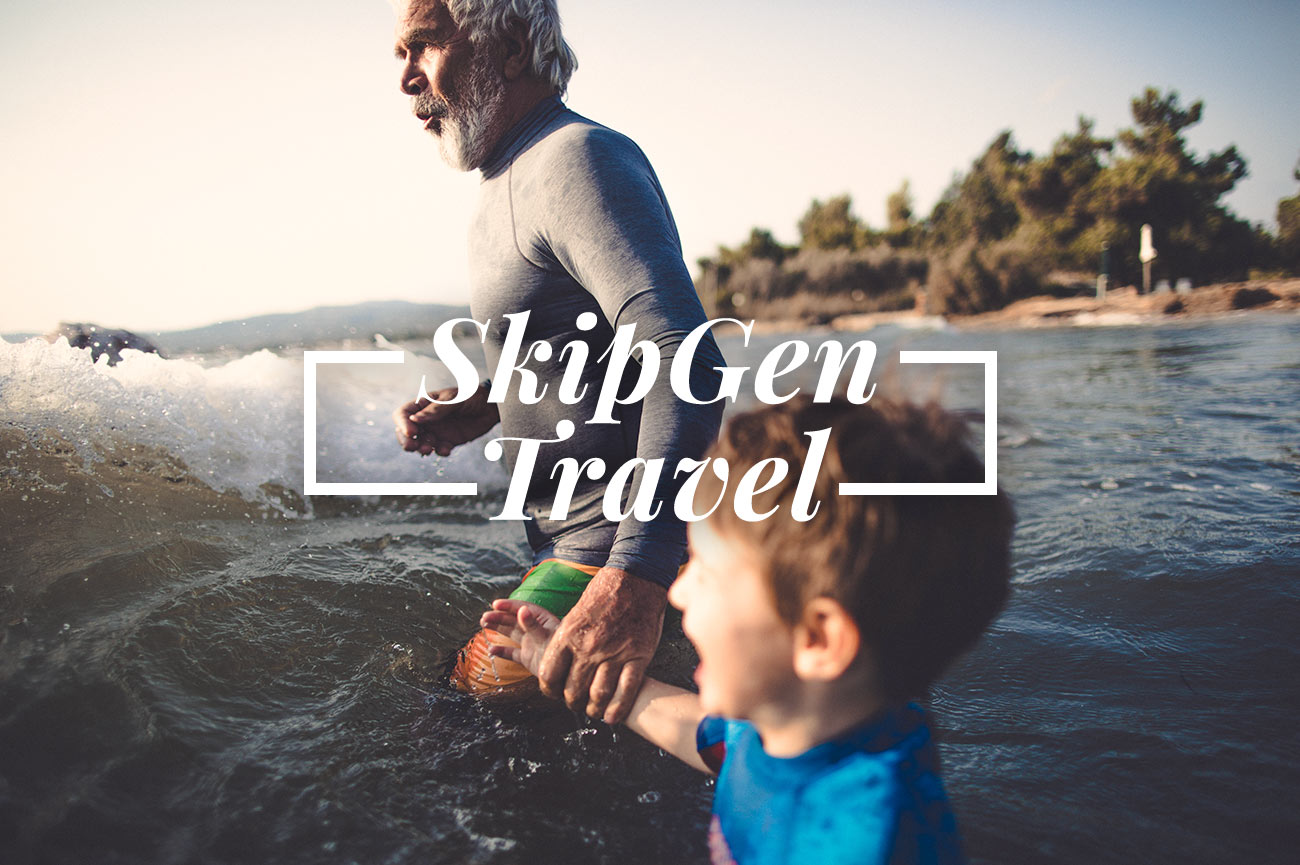 Let's Skip Right to the Heart of SkipGen Travel
Grandparents who want to make up for lost time with their grandchildren are scooping them up and heading out to explore the world—leaving the kids' time-stretched parents at home. SkipGen travel is becoming one of the best ways to reestablish family bonds that grew thin during the isolation and lockdowns of the pandemic. SkipGen travel works so well because it combines two generations with oodles of free time (once school is out).
Whether you're showing the grandkids your favorite ports of call on a cruise, castle hopping through Europe, or watching their confidence grow on horseback at a ranch out west—this is your chance to experience new things together that brings such joy.
Younger children love beach days, no matter where you want to walk in the surf—expose them to new cultures and new foods in new countries. With older grandchildren, build a trip around historic sights in your own country or across the globe—seeing Petra or the great pyramids in real life is more memorable than reading about them in textbooks.
You will need to start planning now for next summer, while there's lots more availability in resorts and ranches and castles. Booking ahead gives you all something to look forward to and plan for. Just imagine the epic "What I Did This Summer" school essay the grandchildren will write after you've taken them traveling.
Making lifelong memories with the young people you love the most.
PLAN NOW FOR FUN LATER!
Receive this newsletter from a friend? Want more? Want to be VIP'd? Sign up below and also get instant access to my Free Travel Trends Report!
SIGN ME UP!
This message is sent to you because you are a client or opted into our email list. If you are not interested in receiving more emails like this one, unsubscribe below. This email has been sent on our behalf by Gold Start LLC, 120 Madeira Drive Northeast #220, Albuquerque, NM 87108, United States